Indonesian Physics Communication (IPC / ISO Abbr.: Ind. Phy. Comm.), formerly known as Komunikasi Fisika Indonesia (KFI), is a peer-reviewed journal on physical science organized and published by the Department of Physics Universitas Riau and supported by Faculty Mathematic and Natural Science UNRI and LPPM UNRI. The journal also plans to collaborate with the Physical Society of Indonesia (PSI) of Riau Branch (MoU).
KFI firstly published a printed-based paper in 2002, twice a year in April and October, regularly.  The online system was established in 2011 and followed by the publication of an online-articles version. Starting in 2020, KFI Journal publishes excellent scientific articles every three times a year, March, July, and November. KFI accepts original research or review articles in the fields of physics and astronomy, including, but not limited to, theoretical physics, geophysics, plasma, energy, optics and photonics, materials science and nanotechnology, instrumentation, electronics, astronomy, earth and planetary, and applied physics (application physics). We cordially invite researchers and academicians to publish their work in this journal.  The author(s) can download the journal template here.
-----------------------------------------------------------------------------------
Announcement:
We are humbly to inform all our author(s) and readers that the published article in IPC from vol 14 no 1 of 2018, has been officially accredited by Sinta 4 based on the Decree of Kemenristek/BRIN  No 200/M/KPT/2020. This certification is valid for 5 years. Currently, IPC's accreditation has been extended to 2027.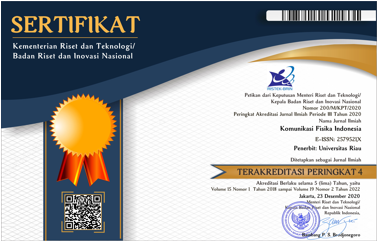 Vol 20, No 3 (2023)
Table of Contents
Articles
| | | |
| --- | --- | --- |
| | Reeky Fardinata, Saktioto Saktioto, Rakhmawati Farma | 205-214 |
| | | |
| --- | --- | --- |
| | Jhon Paul Estomihi Togatorop, Risang Bayu Firdaush, Yosafat Donni Haryanto | 215-222 |
| | | |
| --- | --- | --- |
| | Aria Yunita, Rakhmawati Farma, Awitdrus Awitdrus, Irma Apriyani | 223-230 |
| | | |
| --- | --- | --- |
| | Indah Tamara Sitorus, Erwin Amiruddin, Juandi Muhammad, Erman Taer | 231-236 |
| | | |
| --- | --- | --- |
| | Reni Nurjannah, Mulkan Iskandar, Lailatul Husna Lubis | 237-242 |
| | | |
| --- | --- | --- |
| | Iwantono Iwantono, Muhammad Pauji, Puji Nurrahmawati, Nashiha Chalvis Syahra | 243-246 |
| | | |
| --- | --- | --- |
| | Ervina Putri Wulandari, Ety Jumiati, Miftahul Husnah | 247-252 |
| | | |
| --- | --- | --- |
| | Masthura Masthura, Ratni Sirait, Nurul Rizki Amalia | 253-258 |
| | | |
| --- | --- | --- |
| | Abd Djamil Husin, Indriyanti Rahmi Setyani, Sidikrubadi Pramudito, Sitti Yani, Ardian Arif Setiawan | 259-266 |
| | | |
| --- | --- | --- |
| | Ayu Amalya Rahma, Ety Jumiati, Ridwan Yusuf Lubis | 267-274 |
| | | |
| --- | --- | --- |
| | Ayu Dwi Retno, Ety Jumiati, Ridwan Yusuf Lubis | 275-278 |
| | | |
| --- | --- | --- |
| | Riski Muhammad Natsir Nasution, Nazaruddin Nasution, Mulkan Iskandar Nasution | 279-282 |
| | | |
| --- | --- | --- |
| | Dzulfiqar Yudha Pranata, Rusydi Balfas, Mohammad Kelfiana, Zaky Vebrian, Joseph Bagas Triambada, Rima Fitria Adiati | 283-292 |
| | | |
| --- | --- | --- |
| | Erwin Amiruddin, Amir Awaluddin, Muhammad Rizki | 293-300 |
| | | |
| --- | --- | --- |
| | Ridho Nopriansyah, Awitdrus Awitdrus | 301-305 |